Info Lowongan Kerja Terbaru dari BBM, Telkom Omega, dan Lainnya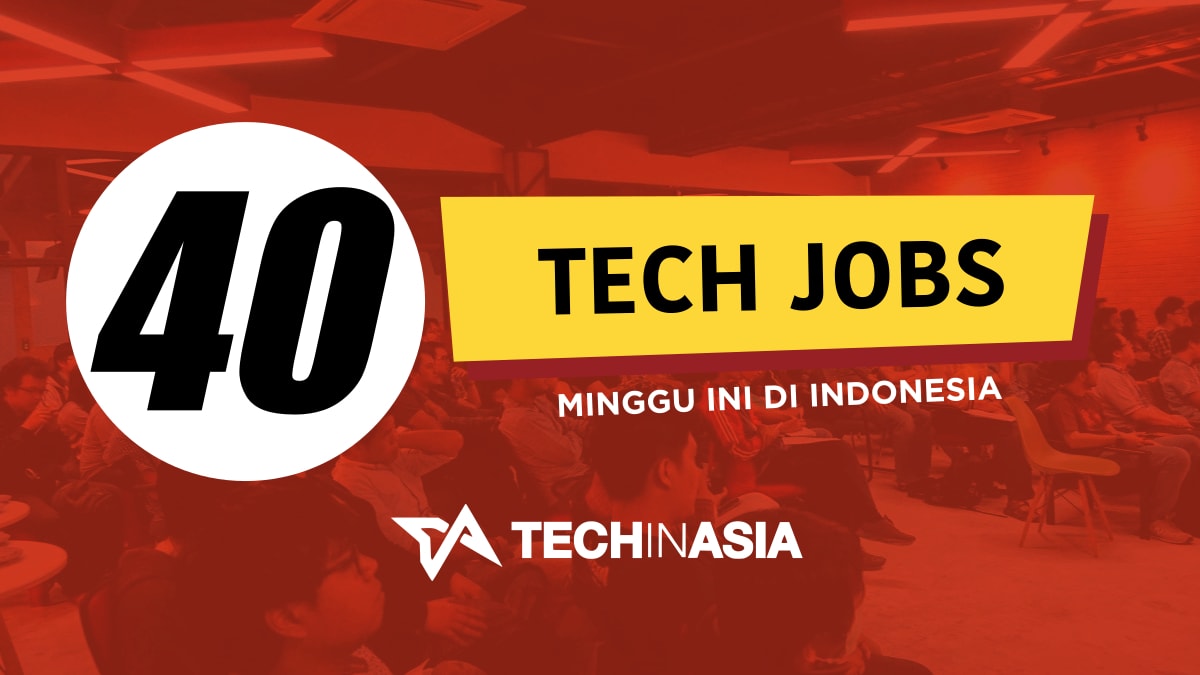 Lowongan kerja di ranah teknologi seperti tak ada habisnya. Dunia startup teknologi mulai menjadi destinasi utama untuk bekerja. Beberapa daya tariknya adalah:
Peningkatan gaji yang pesat dari tahun ke tahun.
Suasana kerja yang menyenangkan.
Tantangan kerja yang terus berkembang.
Di bawah ini, Tech in Asia Indonesia merangkum beberapa lowongan kerja dari berbagai startup dan perusahaan teknologi di Indonesia yang membuka kesempatan berkarier di ranah teknologi. Mulai dari programmer, desainer grafis, marketing, media sosial, sampai sales. Artikel ini akan terus kami perbarui tiap minggu khusus untuk para pembaca setia Tech in Asia Indonesia.

---
BBM
BBM merupakan salah satu aplikasi chat yang memiliki berbagai fitur untuk keperluan bisnis.
---
DanaBijak
DanaBijak merupakan layanan pinjaman online yang menawarkan produk pinjaman mikro kepada masyarakat Indonesia yang membutuhkannya untuk modal bisnis, membayar biaya rumah sakit, hingga biaya pendidikan.
---
Dekoruma 
Dekoruma merupakan e-commerce furnitur dan perlengkapan rumah.
---
Doku
Doku merupakan penyedia layanan payment gateway dan dompet virtual.
---
Garena Indonesia 
Garena merupakan perusahaan teknologi asal Singapura yang bergerak di sektor game, mobile, dan internet.
---
Glints 
Glints merupakan startup pencarian kerja asal Singapura.
---
Greenhouse 
Greenhouse merupakan co-working space yang mengusung konsep penthouse dan layanan yang fokus pada member first.
---
IDN Media 
IDN Media merupakan startup media di Indonesia bagi kalangan milenial dan generasi Z.
---
Jurnal.id 
Jurnal.id merupakan startup penyedia platform akuntansi berbasis online.
---
Otten Coffee
Otten Coffee merupakan e-commerce khusus kopi dan peralatan terkait kopi.
---
Ralali 
Ralali merupakan marketplace B2B untuk peralatan berat MRO (maintenance, repair, and operational).
---
Ritase 
Ritase merupakan platform yang menghubungkan langsung antara pihak pengirim barang yang butuh truk besar dengan para pemilik serta pengemudi truk.
---
Sepulsa 
Sepulsa merupakan platform pembayaran tagihan dan pembelian pulsa seluruh operator di Indonesia.
---
Telkom Omega 
Telkom Omega merupakan startup marketplace di bawah PT Telkom Indonesia.
---
YesDok 
YesDok merupakan aplikasi yang memungkinkan kamu bertanya langsung kepada para dokter tentang berbagai keluhan kesehatan.
---
Apakah visi, misi, dan kualifikasi perusahaan tersebut sesuai denganmu?
Klik di sini untuk informasi lowongan kerja lainnya. Apabila kamu tertarik untuk mendapatkan informasi lowongan pekerjaan di dunia startup secara reguler, silakan klik tautan ini.

(Diedit oleh Fairuz Rana Ulfah)
This post Info Lowongan Kerja Terbaru dari BBM, Telkom Omega, dan Lainnya appeared first on Tech in Asia.
The post Info Lowongan Kerja Terbaru dari BBM, Telkom Omega, dan Lainnya appeared first on Tech in Asia Indonesia.